my first love with commercialized donuts was Dunkin Donuts...been in love with it for so long, through my teenage years and early uni years.
*but the funny thing is I only get to eat these when I went to KL or places that I manage to visit that have Dunkin Donuts..ahaha*
then recently came along J.CO Donuts, I broke up with Dunkin Donuts.
*haha, tidak mau tengok langsung lagi Dunkin Donuts*
. J.CO Donuts taste so heavenly even without those fancy toppings. Besides the price isn't so bad also.
But I can guarantee you from the sight of the donuts, it is mouth-watering enough that you couldn't resist to take a bite.
*oh, and what is so nice with this is that some drinks that you buy comes with a free glazy donuts..thats yummy enough to be eaten just like that*
and now, the newly open outlet in KK is this Big Apple Donuts and Coffee...
Huhuhu, it really made me cheat on J.CO. it seduces me until I almost fell in love with this one.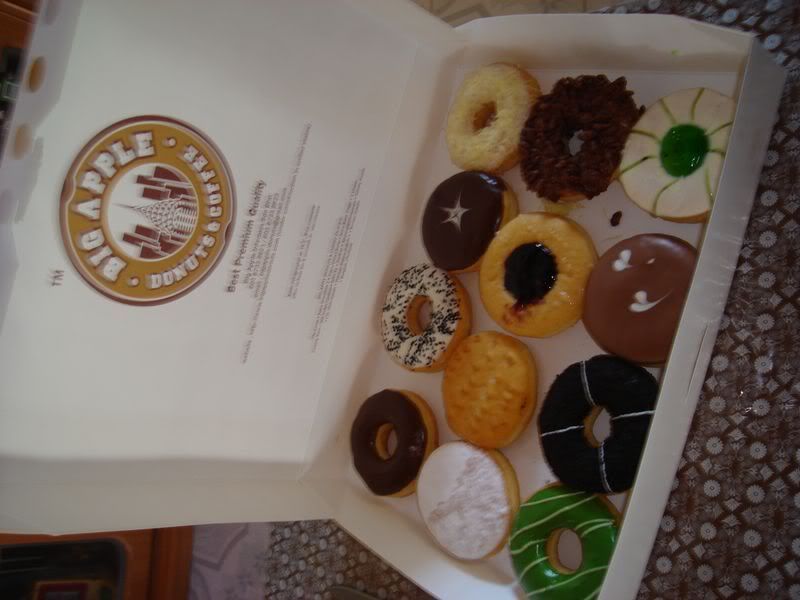 I also found out that some of its Donuts have more or less the same features with J.CO's..a copycat? hmmmm...
Ooooh..now am in a dilemma. I cant be in love with both. Spoilt for choices, only time will tell
*Big Apple or J.CO? Dunkin have been long gone..*