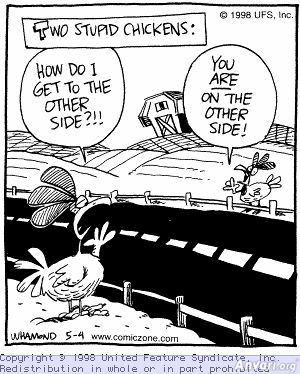 I just can't understand why there are people who seems to be SO EXTREMELY stupid. and this apply to those individuals who are under the care of my hands to be the assets of the country in the future.
I only changed the number in a question, and asked them to answer the very SIMILAR question by referring to the earlier example. Damn..itu pun betul2 tidak boleh jawab.
So, this is how if I am very stupid answering these
1) Last time u slept?
*I lost count...akakaka
2) what do u do when u're bored?
*kick my dog
3) love is?
*oh no, I gotta buy a dictionary!
4) what time is it right now? and what
are you doing right this moment?
*it is time for me to watch TV but I am typing this
5) last person u talk on the phone?
*ermmm..no one is on the phone, they are in the phone
6) if ur in hollywood, who would you
want to be with?
*shah rukh khan...ahahaha..seriously daniel meade from betty
7) currently using pc or notebook?
*wat are those?
8) last time u drove?
*drove my ***** wild
9) fresh orange or plain water?
*cola
10) name one person u hate the most?
*AC pengacara AF tu..doi mintapuji saja
11) what colour of shirt are u wearing
rite now?
*red
12) currently listening to?
*TV
13) ur fav food?
*for now it is sushi..craving for it
14) last time you cried?
*cried? who would do that?
15) why?
*again don't answer me with a why?
16) do dreams come true?
*depends on wat dream..wet dreams never did
17) love ur dad?
*oooooooooooo
18) one person to make u laugh
everytime u see her/him?
*hmmmmmmmm
19) best reality tv shows?
*my life..soon to be on air
20) yahoo or google?
*yoogle..fusion!
21) if u got lost in the middle of
KL,who will you call?
*the prime minister...
22) best place ever?
*best for what?
23) sex?
*is a very interesting activity
24) who is the last person you saw?
*person eh? banyak o
25) can u play guitar?
*trust these fingers what they can do
26) what was the last drink you drank?
*air la apa lagi
27) if u can be a musician who would
you like to be?
*siapa2 saja la.alicia keys maybe
28) who r u?
*jessica alba..haha
29) mcd or kfc?
*long live the Mc
30) before end this survey, do you have
anything to say?
*saya mau makan McDonalds