sabahans are always known to be "pindik-pindik tagap". the genetic traits that is inherited by the ancestors made us very unique, not only to the world, but also to our fellow other malaysians.
but i just cant help not to be complaining about this, because I just don't like my legs. My friends describe it as a "footballers legs" and yes I do have a very noticeable and significant calf muscle especially when am wearing heels...ugh so ugly!
if only...if only..if only

i have...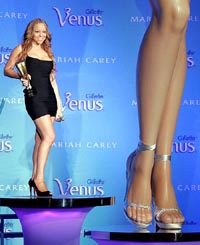 mariah's award winnning legs
or rihanna's a million dollars worth of legs
or this super-sexy-desperate housewives-star...EVA!

*do u notice that these stars also not-so-very-the-tall..hihihi*